Term 4 2023 Program
News in Brief
For all of the most up to date information on happenings at Waminda visit our Facebook page Waminda Community House
Opening Hours
Waminda is open to the community, Monday to Thursday 9am to 4pm.
The house is closed Fridays, weekends and public holidays. Also school holidays unless otherwise advertised.
MEMBERSHIP
The community are invited to become members of Waminda Community House. Membership provides opportunities to build skills, be heard and develop the community. Discount is offered for courses as well as free entry to some Waminda events during the year. Members have voting rights and are able to stand for and elect members to the Board of Management.
Application forms can be downloaded Membership application form
Our calendar at a glance
Ist Monday of the month - Immunisations 1.00-1.30pm
All Mondays - GROW Mental Wellness group 10.30am-12.30pm
Fortnightly Tuesdays - A.W.A.H.S 10.30am-3pm
All Thursdays - Food Relief 11am-1pm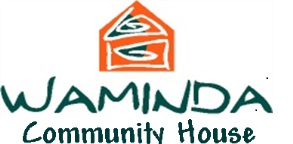 Additional Services Offered
Please check our Facebook page Waminda Community House for times these specific services attend Waminda.
Dental van
Hearing Checks
Optical Superstore eye checks
Do You Need Help?
Waminda offers a wide range of tutoring and assistance services that include tutoring for computing, including iPhones, iPads and similar tablets. Basic literacy for those struggling with reading and writing. Tax help to complete your tax return.
We can also help with form completion, myGov set up and linking to your Medicare for Covid 19 purposes and assit where possible with health referrals and access to immunisations.
Click here for more information on the activities offered by Waminda.
Our Partners
Benalla Health
Benalla Rural City
The Centre
Inland Rail
Australia Post
Tomorrow Today Foundation